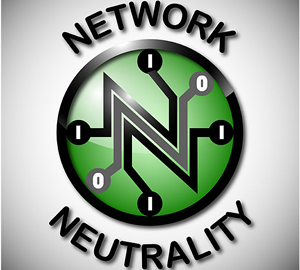 I've been hearing a lot of whining about so-called "net neutrality" lately. For those of you who aren't up to speed on this subject, you can read the full definition here, but here's the basic rundown; In 2010 there FCC created a regulation that essentially mandated all Internet traffic was to be considered "equal", preventing ISP's from engaging in anti-competitive practices by blocking other networks, throttling access speeds, or otherwise being dicks to each other. This regulation was created in spite of the fact that there hadn't been a single incident of any US-based ISP engaging in such a practice, or any similar practices that net neutrality supporters claim to be worried about. Unless you want to count the time Comcast throttled a P2P network that had infected many of its subscribers systems with Malware, of course…
Long story short, it was unnecessary legislation and earlier this year a federal appeals court struck it down. But the FCC hasn't given up the fight, and neither have the supporters. So here's my take on the subject…
You people who want this legislation are freaking nuts.
First, the notion that all traffic should be considered "equal" is flawed. Do you think ISP's should be allowed to prioritize bandwidth to, say, a life alert service for the elderly? Or perhaps reserve/dedicate bandwidth for VOIP carriers to preserve call quality? Or maybe block a network harboring spammers and scammers? If the answer to any of those is yes, be glad net neutrality was struck down – because none of that would be possible if the regulation was in force.
You see, the legislation as it existed wasn't a bill discouraging de-prioritization of a competitive nature. That's what the supporters always claimed it was, but that's not what it actually was. As it was written, no traffic or sources could receive preferential handling. Based on that fact alone, striking it down was a win for all of us, not a loss.
Supporters seem to forget that the Internet has been mainstream for more than 20 years now, and ISP's could have been engaging in anti-competitive practices and all of the things the supporters are afraid of all along… but they didn't. Why? Because it's bad for business. In this day and age, a company caught blocking or throttling the service level to another network would very quickly be "outed". If a company like Verizon were to say "We're going to throttle Netflix" with the hopes that more people would subscribe to their own streaming service, it would result in a mass exodus of their customers in their largest, most competitive markets, switching away to another provider. Verizon's competitors would jump on the opportunity and spend millions running ads saying "Verizon throttles netflix, we don't, switch to us". Remember, they could have done this all along… but they never will, they can't afford the loss of customers and the negative press they'll receive. Companies don't recover from stuff like that. Competition, not government, is what keeps them in check.
I know that example won't convince everyone, but that's OK, there's more to it than that. Aside from the fact that we haven't needed the government telling ISP's what can and cannot be prioritized, if you know anything about the legislative process then you also know that laws undergo multiple amendments and exemptions once they're in place. So let's play this out for a minute…
Let's say Net Neutrality was not struck down, and all traffic had to be considered equal under federal mandate. Suddenly, Vonage cries foul because voice data is no longer given the preference it's always been given, and now they can't meet their service level guarantee. So they lobby congress and an amendment is made to the bill, allowing VoIP traffic an exemption. Then other industries complain because their services are now being throttled to benefit the telcos, so more exceptions are made.
In the end what happens is government decides what traffic and companies are "important" and what isn't.
Why on earth would anyone prefer to let the government make decisions instead of voting with their own dollars? All Net Neutrality would have done is transfer power from the people to the government and the largest ISP's who can afford to hire lobbyists. Competitive network throttling is NOT a problem in the USA, there is no need for preemptive legislation to prevent it.
And for those who would say "I live in a rural area and we only have one provider", that doesn't matter – the fact that that provider also operates in areas where there IS competition will still prevent them from implementing anti-competitive policies. If a big ISP decided to throttle a small town, their customers in the metro areas would cancel their service on principle, and the ISP's know it.
By striking down Net Neutrality, "We the people" are the winners. We preserved our rights by not transferring them to government.
Also, keep in mind that bandwidth throttling works both ways. With NN out of the picture, ISP's can openly prioritize certain networks. So an ISP, if they choose to, could allocate dedicated bandwidth to Netflix to ensure the best quality streaming to all customers. I would gladly pay more to an ISP that gave Netflix a little bit of preferential treatment.
Choice is always a better answer than government.
http://ronrule.com/wp-content/uploads/net-neutrality.png
300
300
Ron Rule
http://ronrule.com/wp-content/uploads/rr-top-trans.png
Ron Rule
2014-05-21 11:19:58
2017-03-08 12:00:13
The Case AGAINST Net Neutrality